Manoj Bajpayee on his role in Joram: 'Felt I had seen Dasru somewhere, just had to construct him'
Directed by Devashish Makhija, the hard-hitting survival drama received a standing ovation at the Jio MAMI Mumbai Film Festival
04 Nov 2023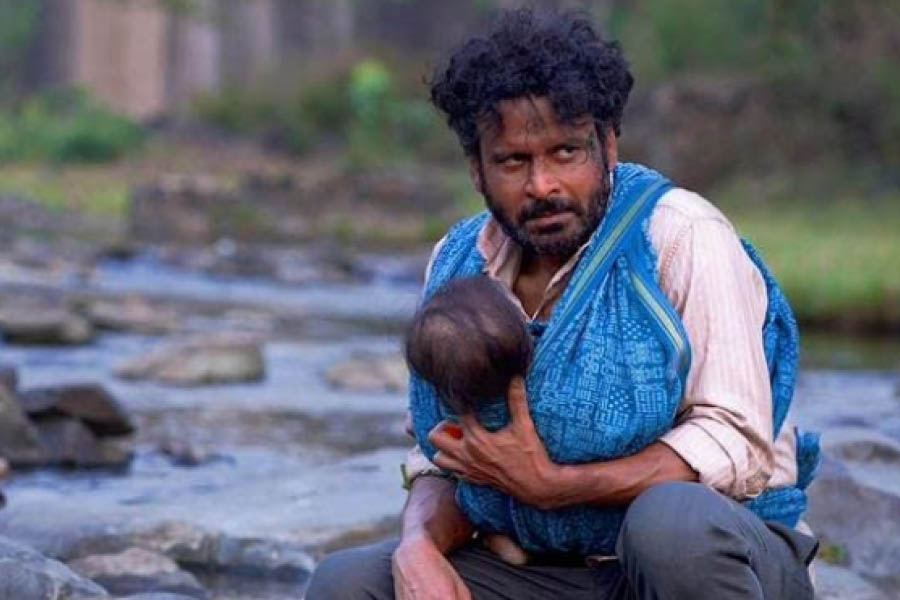 Mumbai | Published 04.11.23, 11:16 AM
Actor Manoj Bajpayee says he tapped into his experience of coming from a small village to essay the role of a displaced man on the run in "Joram".
The hard-hitting survival drama is directed by Devashish Makhija of "Ajji" (2017) and "Bhonsle" (2018) fame. It was screened last night at the Jio MAMI Mumbai Film Festival, where the film received a standing ovation.
"I come from a village so my journey has been very long. I've interacted with lakhs of people, such has been the journey that I don't need to go to 'jhopadpatti' (slum) to play a 'jhopadpatti' guy.
"There are so many experiences stored in this hard drive and whenever it is needed, they always come handy to me. I felt I had seen Dasru somewhere, I just had to construct him for the film," the 54-year-old actor, who was born in a small village of Bihar, said post the screening of the movie here.
The film revolves around an immigrant labourer, Bala aka Dasru, wo confronted by the sudden brutal murder of his wife, his own history of violence and a system that wants him crushed at any cost, flees with his infant daughter Joram to his erstwhile home in distant forests, according to the film's official synopsis.
Bajpayee said he immediately agreed to be part of "Joram" when Makhija narrated him the story in 2016 but he wanted to be sure that the child actor at the centre of the story is well-cared for.
"When he (Makhija) told me this is how we will shoot, I realised that he is more concerned about the child than me. The production and direction team took good care of her," he said.
Makhija, who previously worked with the actor on "Bhosle", said Bajpayee is one of those rare actors who can disappear in all kind of roles.
"As a filmmaker, I try to reflect more brutal realities of what's happening in our Indian society so I need people who don't look silent. There are actors who are really good but they work out so much that they start looking surreal. I can't see them playing an everyday man. Somewhere in three films (that we did), it's Manoj, who he is and what he is, empowers me to turn him into anything," he said.
The director further said both he and Bajpayee believe in having a collaborative process, like in "Bhosle", Makhija kept rewriting the script.
"The first draft of 'Bhosle' had 48 lines of dialogues. In the final film, he had just 11 lines. So, it is a cross flow of energy, it affects the choice of script, the script feeds into the soul of the actor," he added.
"Joram", set in Jharkhand, deals with issues such as social inequalities, injustice with the tribal communities and deforestation and Makhija hopes his film reflects the harsh reality of the Indian society.
"Filmmakers can't change the world. If I want to change the world, I need to be a policy maker, an activist, journalist, or one of those people who make a real difference. I realised that I can't do those jobs, I can't do that better than people who are doing it, the only measurable impact I can do is plant some questions," he said. Actors Mohammed Zeeshan Ayyub Smita Tambe, Megha Mathur round out the cast with special appearances by Tannishtha Chatterjee and Rajshri Deshpande.
"Joram" is produced by Zee Studios in collaboration with Makhijafilm, an independent production house jointly owned by Devashish and curator-producer Anupama Bose.
Except for the headline, this story has not been edited by The Telegraph Online staff and has been published from a syndicated feed.