Jio MAMI: Vishal Bhardwaj, Sujoy Ghosh, Raj & DK share their experience of working with Netflix
The filmmakers spoke at a panel discussion titled Seminal Storytellers in Streaming 2023, presented by Netflix with Jio MAMI Mumbai Film Festival 2023
04 Nov 2023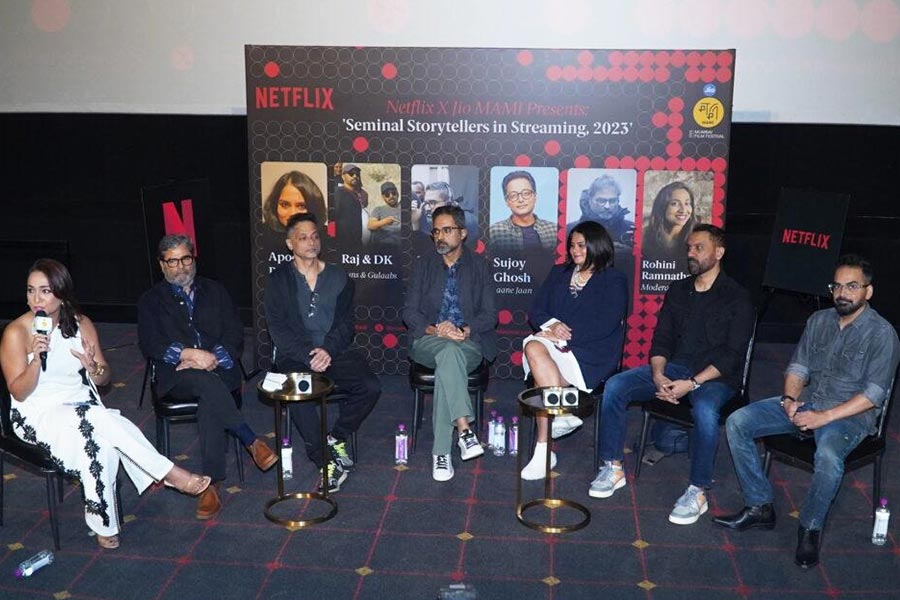 Calcutta | Published 04.11.23, 01:14 PM
Filmmakers Sujoy Ghosh, Vishal Bhardwaj, Raj & DK, Apoorva Bakshi and Sudip Sharma came together for the panel discussion 'Seminal Storytellers in Streaming 2023' at the ongoing Jio MAMI Mumbai Film Festival in collaboration with Netflix, where they shared their insights into the nuances of storytelling in the streaming era and their experience of collaborating with Netflix.
Sujoy Ghosh, who recently debuted on OTT with the Netflix thriller Jaane Jaan, emphasised the power of a good script. "I truly believe that for any actor today, if given a good script, they will give it their all, no matter the medium — theaters or streaming platforms," said the Kahaani director.
Vishal Bhardwaj, who also made his OTT directorial debut recently with the espionage film Khufiya, highlighted the experimental aspect of streaming platforms. "One of the major advantages of working with streaming platforms like Netflix is that they enable us to experiment. Khufiya had been my passion project and in the works for quite some time. However, to bring this to life, it required someone who could grasp the nuance and pace of the story, and with Netflix, I got just that support," he said.
Apoorva Bakshi, the creator of the docu-series The Hunt for Veerappan, shed light on the meticulous research that went into portraying the enigmatic smuggler on screen. "There were so many aspects of Veerappan's fractured psyche that were not known to people beyond a certain region. Our teams researched extensively, captured over 240 hours of footage, and took great care to build a portrayal of his life from the perspective of those close to him and those involved in the manhunt," Bakshi said.
"Through the docu-series, we wanted to offer viewers a well-rounded, unbiased view of the story, and that's what streaming and Netflix made possible," he added.
Director duo Raj & DK, who forayed into the world of streaming and tasted success with the Netflix web series Guns & Gulaabs, had a similar story to share. "When we started writing our first series, we were practically reinventing the wheel because we had no idea where to start. We slowly realised that we should come up with our own process to create a series. This is the beauty of streaming; it gives you the freedom to experiment with formats and the art of storytelling," Raj & DK about Guns & Gulaabs.
Kohrra director Sudip Sharma spoke about the importance of storytelling in local languages. "The advantage of working in streaming and with Netflix is the freedom it provides to create stories in a language that feels organic to the story," said the filmmaker at the discussion moderated by RJ Rohini Ramanathan.