Programme 2018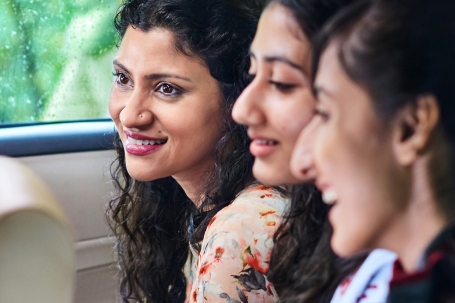 Anthology: A Monsoon Date
Director: Tanuja Chandra
fiction
World Premiere
Section: Spotlight
Country: India | Year: 2018
Language(s): Hindi | Time: 21 mins
Synopsis
A Monsoon Date is about an eventful, rainy evening when a young woman is on her way to see a young man she is dating. Along the way, she experiences bittersweet moments with a series of strangers, even as a storm brews inside her. Today, she has decided to reveal to the young man a heart-breaking truth about her past. This truth, she
knows, is not possible for anybody to understand. And yet, she hopes that he would. With her heart pounding like the torrential rain around her, she holds on to this unreasonable hope.
Director's Bio
After receiving a Bachelor's degree in English Literature in Mumbai, Tanuja Chandra completed further studies towards a Master of Fine Arts degree in Film Direction and Writing in the USA. She returned to India and directed the television shows, Mirch Masala and Zameen Aasmaan. After this, she co-wrote the screenplay and dialogue for Mahesh Bhatt's films, Zakhm and Tamanna, both of which won National awards, and co-wrote Yash Chopra's Dil Toh
Pagal Hai.
She began independent film direction in 1998 with Dushman and directed Sangharsh, Sur - A Melody of Life, Zindaggi Rocks, and the English language film, Hope and A Little Sugar in 2008, amongst others.
Several of her films received awards in different categories and her English film received recognition in international film festivals. In 2017, her most recent film, Qarib Qarib Singlle released, and a collection of short stories by her, called Bijnis Woman was published by Penguin Random House. A short film she directed called Silvat began streaming this
year.