Programme 2016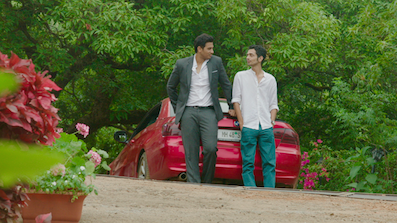 Loev
Director: Sudhanshu Saria
fiction | Section: India Gold
Country: India | Year: 2015
Language/s: English,Hindi | Time: 90 mins
Synopsis
When hotshot, Wall Street dealmaker Jai thinks of using his 48-hour business trip to Mumbai for pleasure, Sahil, his music-producer friend, drops everything, including his reckless boyfriend Alex, to help him execute the perfect getaway. As they hike the hills and canyons of Maharashtra, the friends discover the differences between them are much greater than those that result from time-zones.Things take another turn when Alex shows up with a new male-companion at his side, reanimating old conflicts and bringing unanswered questions to the fore.
Director's Note
"Loev is not a political film – it is a simple love story about an unusual love. But the act of making this film was a political one because of where this film was made.
At first glance, this is a universal story that could have taken place in any city from Boston to Budapest but a closer look reveals an invisible, fourth character in every scene: the politics of India. The complex legal and social codes gagging these men shape the way they express, understand and recognize love.
Three years ago, India's highest court passed Amendment 377 into law declaring homosexuality punishable by life imprisonment and making criminals out of millions of its citizens. By extension, the court made it very easy for any cinematic work endorsing or depicting this love to be censored, obstructed and banned. It was in this environment that I wrote the script and it was in this India that our actors, technicians, investors and supporters came together to make this film, working in absolute secrecy and, in many cases, free of cost.
We knew the law would make it difficult for the film to be seen but we refused to self-censor and help marginalize this community and its love. Instead, we set out to portray these lives authentically and with dignity in a personal story where the characters seem least interested in the Supreme court's grand decision.
However, what started out as an intellectual act of protest quickly became something else. Love.
Mercilessly confusing, painful and euphoric to its patrons and blind to all divides of gender, sexual-orientation, creed and class -- this too is a story about love. No matter how we chose to spell it.
Director's Bio
Born in Darjeeling, India, award-winning filmmaker Sudhanshu Saria earned his Bachelor of Fine Arts degree in Film and Photography from Ithaca College in New York. His work has premiered in festivals such as Hollyshorts and Rio de Janeiro International Short Film Festival and been featured on NPR and Good Morning America. He is also an alumnus of the Berlinale Talent Campus. His most recent short, His New Hands, premiered in Competition at the 2014 Hong Kong International Film Festival, and was awarded the prestigious Remi Gold Prize for Best Dramatic Short at the WorldFest-Houston International Festival and the Best Film prize at Flyway Film Festival. I am Here, his second feature-length screenplay, was selected for the International Film Finance Forum at the Toronto International Film Festival, and is currently in pre-production.