Erik Barmack in Conversation with Anupama Chopra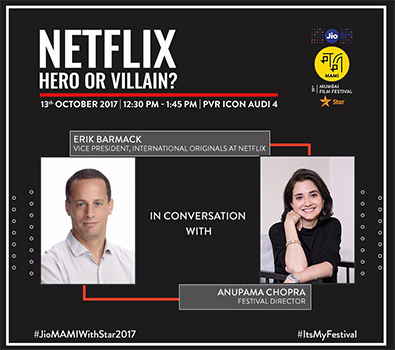 CCTV Landscape of Lower Parel by CAMP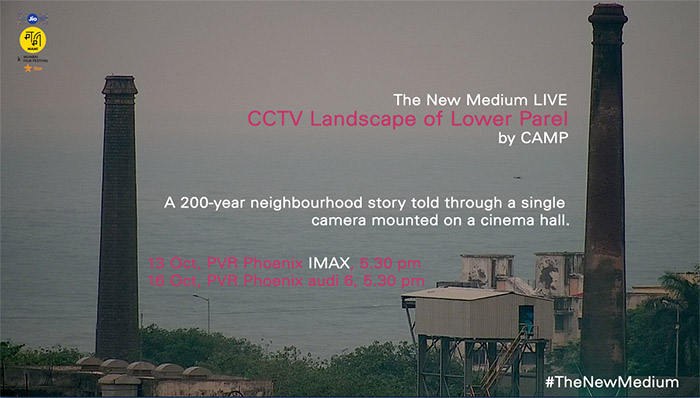 A 200-year neighbourhood story told through a single camera mounted on a cinema hall.
Mumbai-based artists CAMP take us into the heart of a 200-year history of the city from reclamations to industrialisation to neo-liberalism – shown to the audience via a single LIVE CCTV installed on the roof of PVR Phoenix. This not-to-be-missed "virtual reality" experience opens The New Medium II, and is the only presentation at the festival using IMAX. Click here for more info
13 Oct 2017, 5.30 PM, PVR Phoenix IMAX
16 Oct 2017, 5.30 PM, PVR audi 6
Meet the members of India's first, woman-only, documentary collective and revisit their history and prescient video practice.
In 1985, six women, batchmates at Jamia Millia Islamia's AJK Mass Communication Research Centre (MCRC) formed Mediastorm – possibly India's first documentary collective. In the years they were active, Mediastorm collective made three significant films: In Secular India (1986), From the Burning Embers (1998) and Whose Country is it Anyway? (1991), specially digitised for this presentation. Mediastorm won the Chameli Devi Jani Award for their practice in 1991. Click here for more info
14 Oct 2017, 12.00 PM, PVR ICON audi 1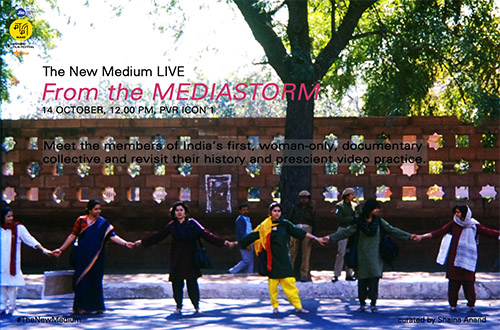 Witness the multi-media-archaeological trip with DADA, Kamal and collaborators.
Three decades ago, while on a break from filmmaking, maverick director Kamal Swaroop went on a speculative quest for Dadasaheb Phalke's missing biography. The result was the book Tracing Phalke, and an extraordinarily generative educational experiment that took place in cities across India where Phalke had spent his life. Together they evoke the chronology of technology, the birth and maturing of cinema and a rich history of modern art as seen from India. Click here for more info
17 Oct 2017, 6.30 PM, PVR ICON 1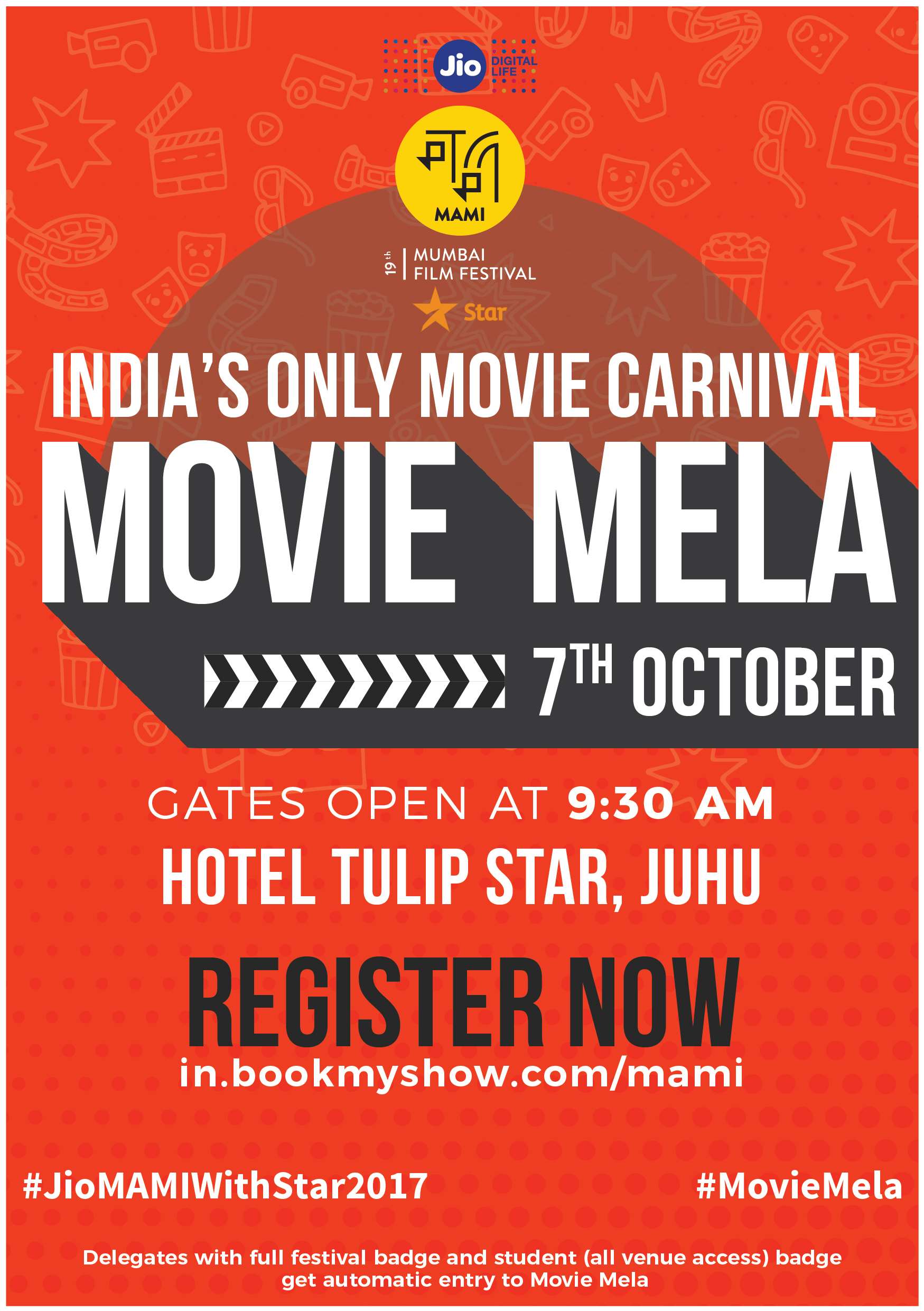 India's Only Movie Carnival Movie Mela is Back!
The Movie Mela is a celebration of popular cinema for anyone who loves the movies and brings forward a day filled with everything you love about the movies: Stars, stories, film merchandise, memorabilia and finger-licking food to go with it. There are back-to-back sessions with your favourite actors and filmmakers that put you in the front seat and make you part of the process of making movies.
Date: Saturday, 7th October, 2017
Venue: Hotel Tulip Star, Juhu
Gates open at 9:30 am!
Registered delegates with Full Festival Badge and Student (All Venue Access) Badge get automatic entry to the Movie Mela and can collect their badges at the venue!
To be part of the Ultimate Fan Experience, Register now!
Sessions at the Movie Mela 2017
10:30 AM | In conversation with the Team of Golmaal Again
Anupama Chopra and Rajeev Masand in a candid chat with the team of Golmaal Again- Rohit Shetty, Ajay Devgn, Parineeti Chopra, Arshad Warsi, Kunal Khemu, Tusshar Kapoor, Shreyas Talpade and Tabu on what goes behind the scenes in the making of one the biggest comedy film franchises.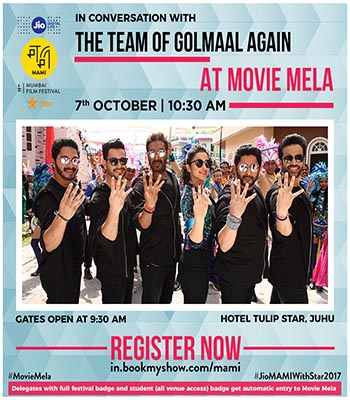 12:30 PM | Vishal-Shekhar: Stories behind our Top 5 songs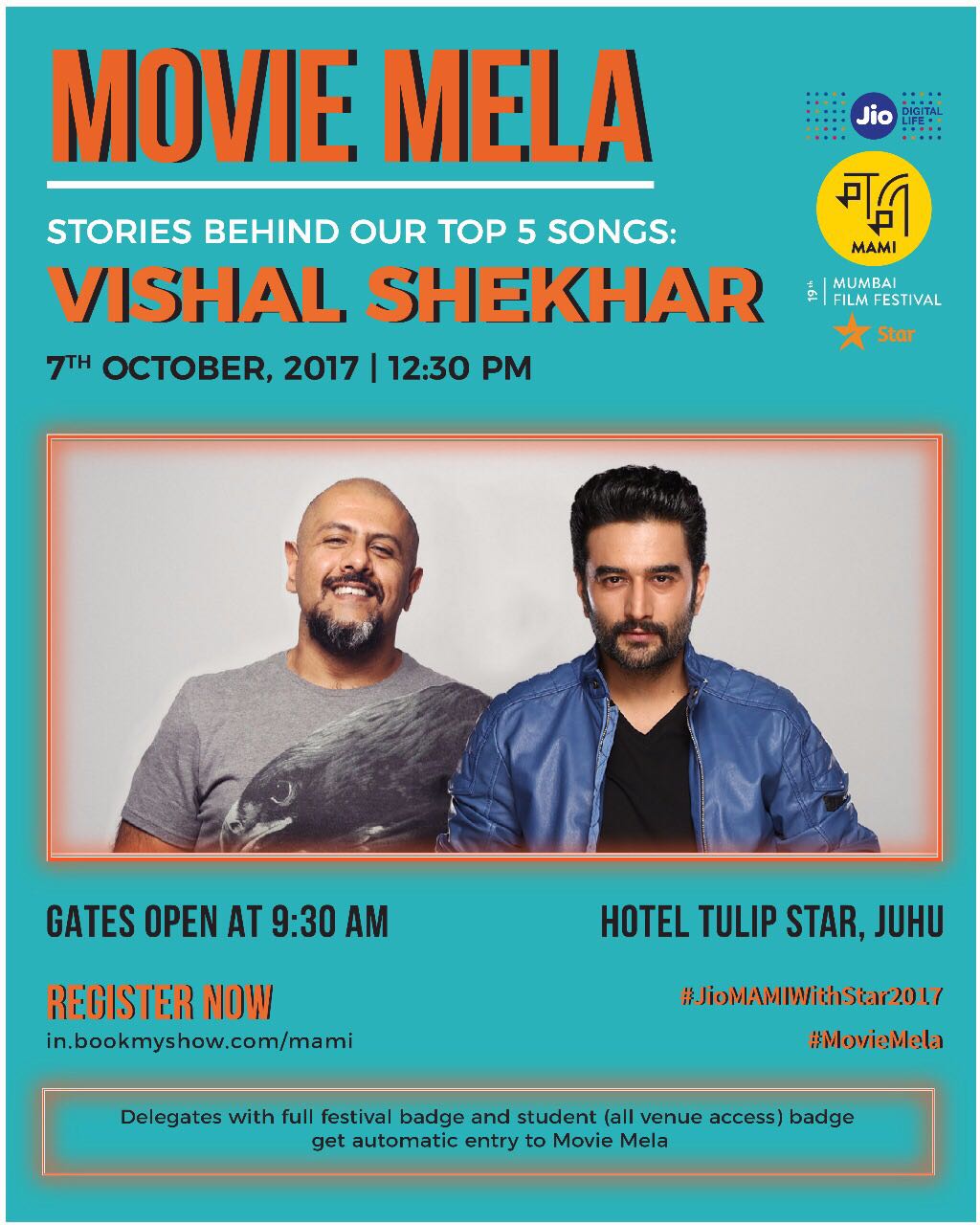 Acclaimed music composers Vishal Dadlani and Shekhar Ravjiani tour through the pathway of their musical journey in conversation with Anupama Chopra and Rajeev Masand
2:00 PM | Vidya Balan and Her Favourite Characters
Catch Vidya Balan take a tour of her favourite characters with Anupama Chopra and Rajeev Masand.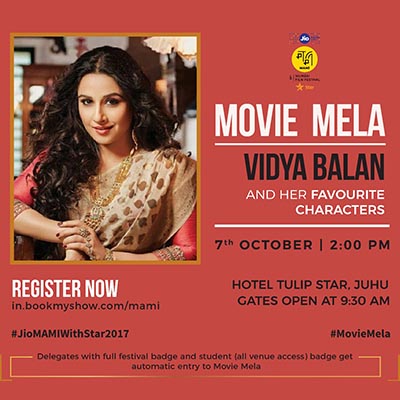 4:30 PM | Director's Special with Kabir Khan, Alankrita Shrivastava, Nitesh Tiwari, Anurag Kashyap & Ayan Mukerji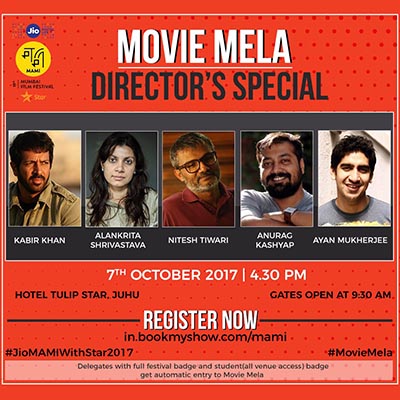 Anupama Chopra and Rajeev Masand talk about all action behind the scenes and on set with Kabir Khan, Alankrita Shrivastava, Nitesh Tiwari, Anurag Kashyap and Ayan Mukerji.
7:00 PM | The Big Talk: Karan Johar with Alia Bhatt and Ranbir Kapoor
Noted filmmaker Karan Johar in conversation with two of the most promising actors of the generation Alia Bhatt and Ranbir Kapoor on how they take on the world of films.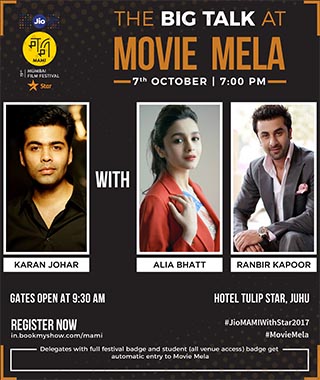 Young Critics Lab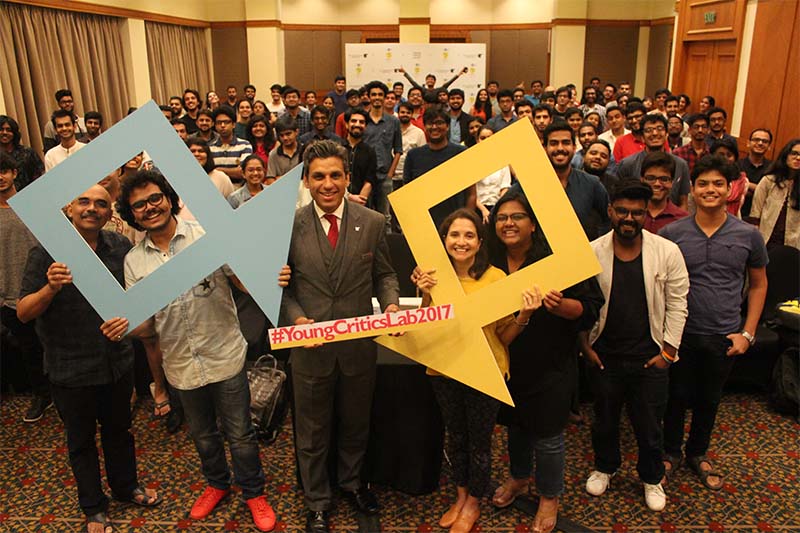 The Young Critics Lab, an initiative by Jio MAMI Mumbai Film With Star, is a leading platform that aims to create value in terms of film criticism. Each year, the lab calls for young aspiring film critics from all over India. Out of the thousands of entries received, only a handful get the chance to understand the nitty-gritty of film writing and critiquing. This year, the workshop has gone pan India and has gathered a hug response from fresh talents.